Are you bored of looking at the age-old, mundane, and downright uninspiring wallpaper on your iPhone? Does it leave you feeling bored or unexcited about your day? If yes – well, we have the perfect solution to all your problems – a collection of 33+ cool and calming wallpapers for iPhones.
With the umpteenth number of stressors around you, it is only logical to surround yourself with calmness and peace in whatever way possible. And since our iPhones make up such an important and huge part of our life, what better way to reflect positivity than having a calming and relaxing wallpaper on your iPhone?
Think of it this way: You are in a seemingly stressful situation and are desperately looking for something to help you distract your mind or remind you of something calm or peaceful. You take a deep breath and pull out your phone from your pocket.
The moment you turn it on, you see a peaceful wallpaper staring back at you. It could be a lush green scenery, the ocean, a cute animal you love, or a beautiful flower. No matter what it is, at that moment, it is a small but powerful reminder of something peaceful and calming.
As you keep looking at the calming iPhone wallpaper, you feel your stress level going down. You close your eyes and take a deep breath. When you open them the next time, you feel a perspective shift within you and are prompted to start afresh.
This is the power of cool and calming iPhone wallpapers. They are a small but easy and simple way to bring a momentary sense of calm and peace into your life at a moment when such feelings might feel foreign.
Now you know that cool and calming wallpapers for your iPhone can positively impact your overall well-being. But, finding these relaxing wallpapers is a challenge in itself.
Well, we made the task a little easier for you, pal! We have curated a list of the best 33+ cool and calming wallpapers for iPhone to help make the process of finding the one that suits you ideally easier. So whether you are a nature lover, minimalist, pet lover, or much more – this list of relaxing iPhone wallpapers has something for you. Let's get started.
Relaxing And Calming HD iPhone Wallpapers To Brighten Up Your Screens
1. Hammocks on a beautiful beach sunset
This calming iPhone background captures the perfect beach holiday scene. Hammocks tied to palm trees with a background of a picturesque sunset are everything you would think of while daydreaming of a tropical holiday. The sunset's beautiful shades of pink and orange add a calming touch to the image, making it fit to refresh you in the middle of a stressful day.
2. Relaxed Easter Eggs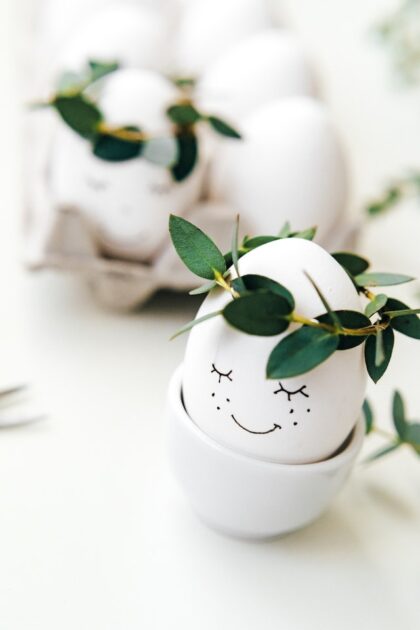 What better reminder of peace and relaxation than this cute wallpaper for iPhone featuring the most serene and adorable easter egg? This simplistic iPhone wallpaper will not just make you smile every time you see it; it will also perfectly align with your widgets and app and make for the perfect home screens.
3. Symmetric Staircases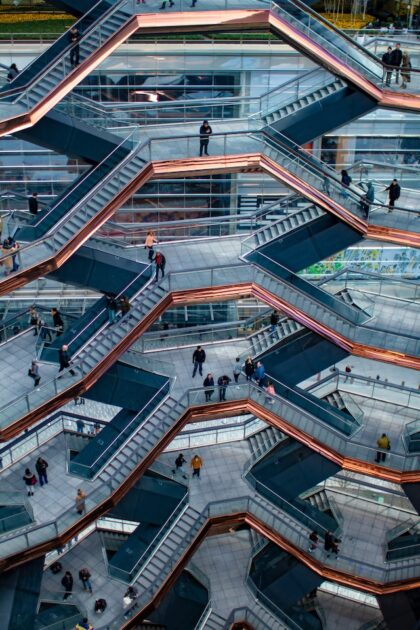 There is something so calming and soothing about this picture, right? This one in the list of cool and calming wallpapers for iPhone is for all the architecture lovers out there. The shot encompasses the beauty of symmetry and design. The soft red and bluish palette adds to the tranquillity and calmness of the whole atmosphere, making it perfect for someone looking for respite in a moment of stress.
4. Calming beach waves
This stunning ocean wave shot makes for a highly relaxing and calm iPhone wallpaper. Just by looking at this picture, you are transported to the serenity of a beach with the sound of the waves crashing against the shore, making you feel peaceful and content.
5. Diverse Plants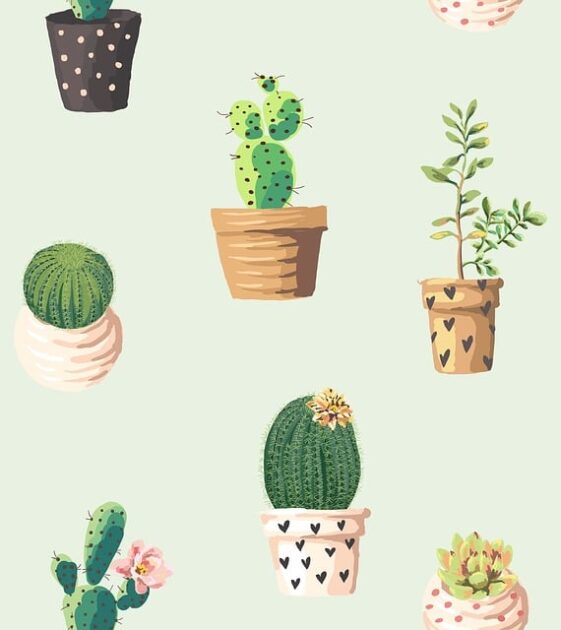 Think of all those times when we are worried about our growth, appearance, career trajectories, and whatnot. Well, this cute wallpaper for iPhone is the one that will help you reason all your worries. It is a reminder that despite growing in different, diverse, and complicated ways – we are all still growing. And that's the most important and beautiful part of it all.
6. Abstract Art
This abstract art image will make for the perfect calming iPhone background for your home screens. Abstract art adds a touch of uniqueness and creativity to your iPhone screens. The colourful splatters are sure to leave you feeling relaxed and calm.
7. Northern Lights
There is no way a list of cool and calming wallpapers for iPhone can be complete without adding a dash of northern lights. This majestic picture of a hilltop with a flowing fountain, set in the backdrop of northern lights, is sure to leave you in awe and wonder each time you open your phone.
8. Cosmos Flower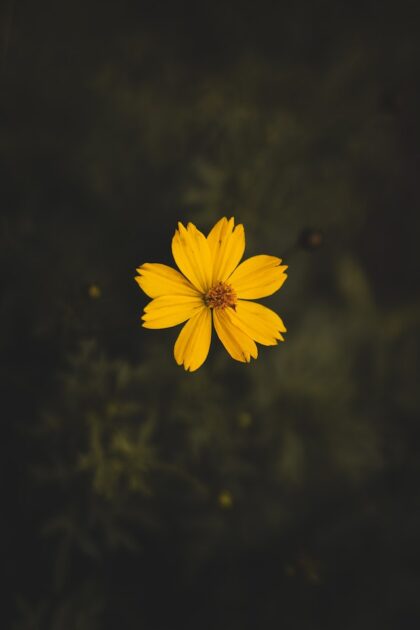 When was the last time you gifted yourself a flower? When did you last validate or praise yourself for something you had done well? When was the last time you gave yourself a pat on the back for how you have come?
Well, this cosmos flower image from the list of cool and calming iPhone wallpapers is a reminder to gift yourself the flowers you so dearly deserve. It will serve as a reminder of everything right you are doing, thus providing you with the right amount of confidence whenever you feel any doubt.
9. Vintage Vibes
Do you have an old-school vibe? Because if yes, this one of the HD iPhone wallpapers is the perfect choice for you. This cool iPhone wallpaper will add elegance to your screens and fill you with nostalgia each time you look at it.
10. Think About Things Differently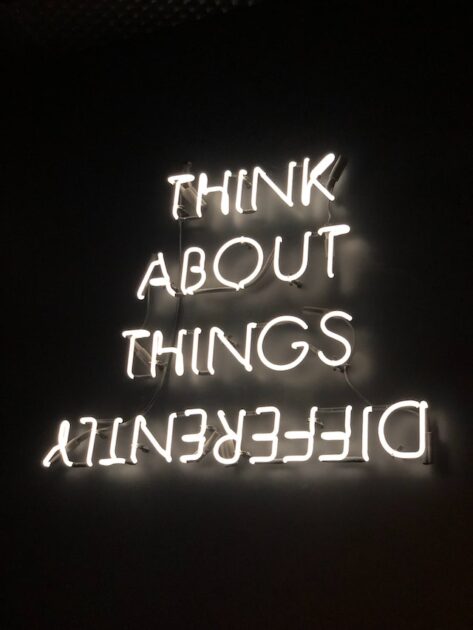 Sometimes the cause of all our worries and stresses is the perspective from what we are looking at things. We are so occupied with the narrow perspective that we fail to understand what lies in the bigger scheme of things. This one from the list of cool and calming iPhone wallpapers is the perfect dose of motivation you will need on the days your life desperately needs a perspective shift. It will remind you to take an objective route, and maybe things will start making much more sense with it.
11. Two-colour painted wall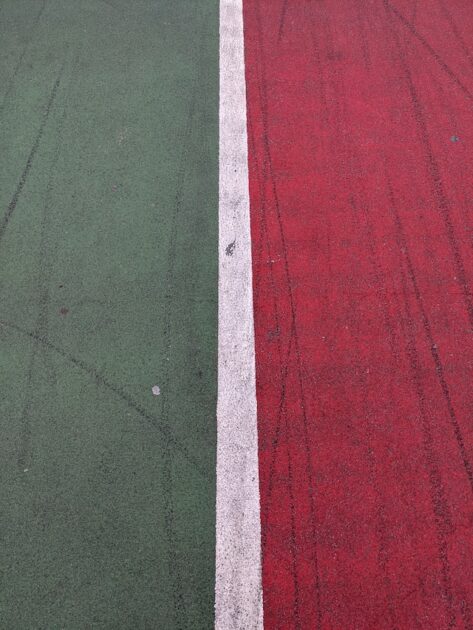 This one from our list of calming iPhone wallpapers is an aesthetic shot of the dual-coloured wall. The soothing colour palette makes this image a relaxing wallpaper. For all those who like minimalistic designs, this elegant wallpaper is the perfect one to brighten up your iPhone screens.
12. Majestic White Horse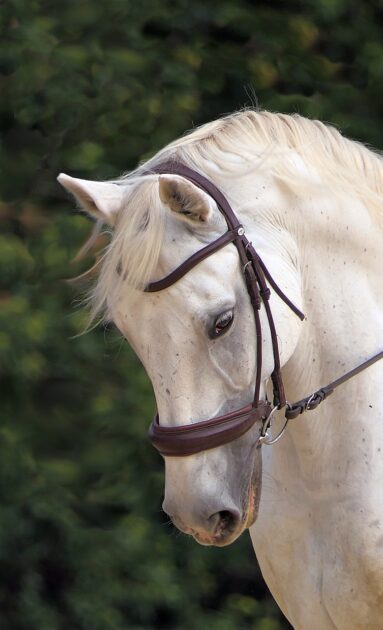 This stunning image captures the beauty and serenity of the horse. The lush green background adds to the image's overall sense of calmness and tranquillity, making it one of the most calming iPhone wallpapers.
13. Pop Culture Art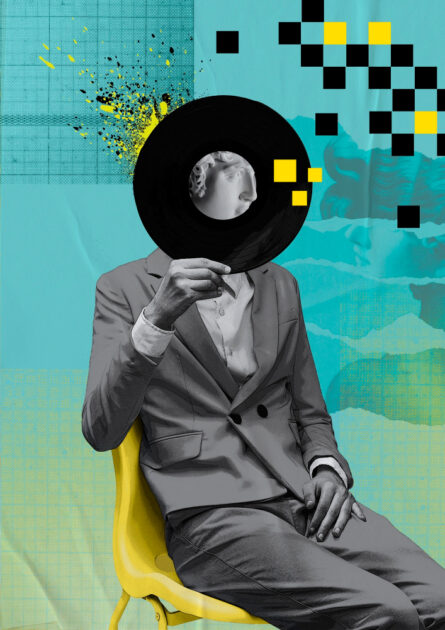 If you are a fan of pop culture or retro art like us, we have this amazing and cool iPhone wallpaper for you. This impressive art composition will surely reflect your pop-culture personality and brighten up your iPhone screens.
14. Warm Moon Behind Trees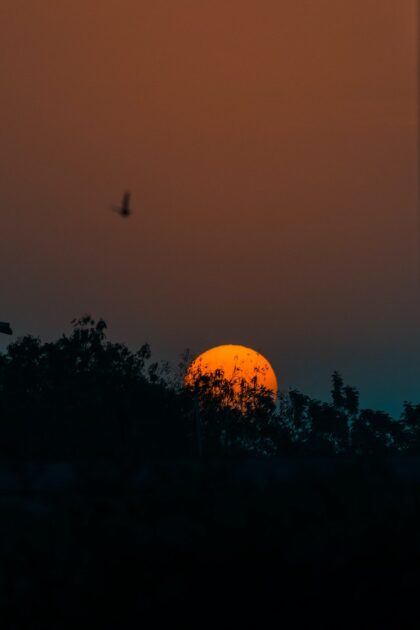 There is nothing more calming and peaceful than the view of the moon. With this warm moon shot from our list of cool and calming wallpapers for iPhone, you can get this sense of peace each time you open your phone.
15. Monochrome Skyscrapers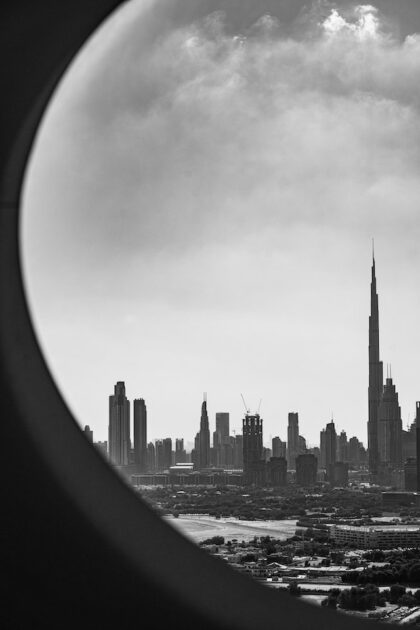 This calming iPhone wallpaper is for all those who love aesthetic black-and-white shots. This soothing and relaxing wallpaper captures the grandeur and might of city architecture to the fullest. While the monochrome effect adds to the sense of calm in the image, the tall buildings provide a touch of stability, together making a perfect background for your phone.
16. Colorful Parrot On A Branch
If you are fascinated and mesmerized by the beauty of this colourful parrot like us, this one from the list of calming iPhone wallpapers is perfect for you. The vibrant colours of the parrot are rightfully balanced and elevated by the neutral background. This calming iPhone background is an excellent option to add a dash of colourfulness to your iPhone screens.
17. Red Trees In Autumn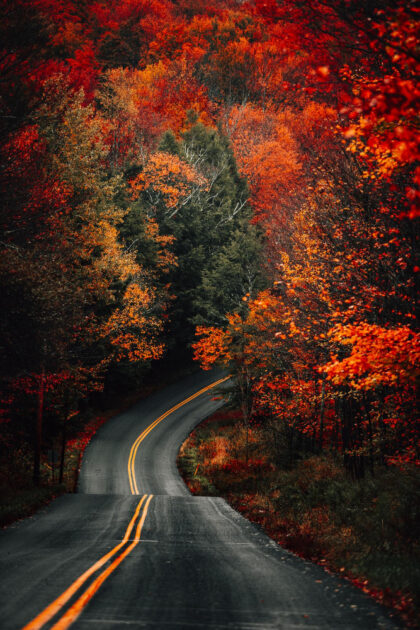 This beautiful fall iPhone wallpaper captures the atmosphere of the season. The scene of the road covered by vibrant red trees makes for a breathtaking shot. The warm and peaceful ambience will leave you feeling fulfilled and happy.
18. Toy Car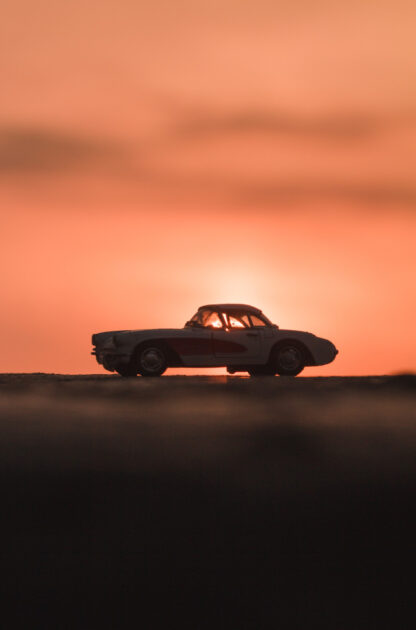 This striking image of a vintage toy card car against a colourful background will make for a beautiful and cool iPhone wallpaper. This wallpaper will reflect your uber-cool personality while creating an overall calming background to look at.
19. Light In The Middle Of Dark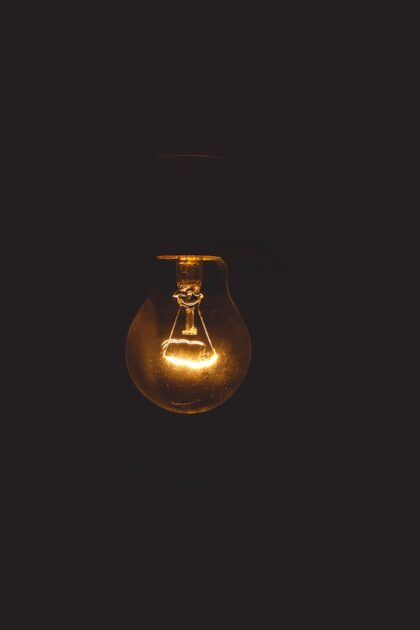 Think of all those times when you thought there was no way out of the darkness surrounding you, and you still made it through. This one from our list of calming iPhone wallpapers is your reminder that you can always look for the light because the light is right inside of you. It shines within you and reflects in your smile.
This does not mean that you have to find something good in every situation. We at Your Mental Health Pal do not believe that their something good to come out of all painful situations. But what we are sure about is that you will come out of it. We believe in you, and so should you.
20. Purr-fectly Calming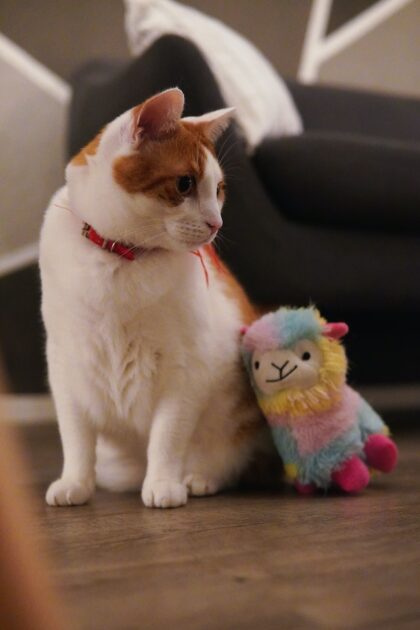 This adorable cat sitting with its favourite toy is the cutest wallpaper for iPhone. Apart from adding the much-needed cuteness to your screens, this relaxing wallpaper will also remind you to take a much-needed break from your busy schedule.
21. Monochrome Hot Coffee Mug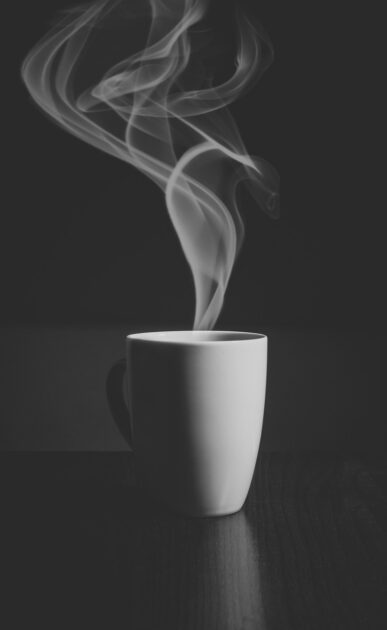 If a mug of coffee is the love of your life and the only thing keeping you sane as you juggle your everyday life simultaneously, this monochrome hot coffee mug is the perfect iPhone wallpaper for you.
22. Winter Playtime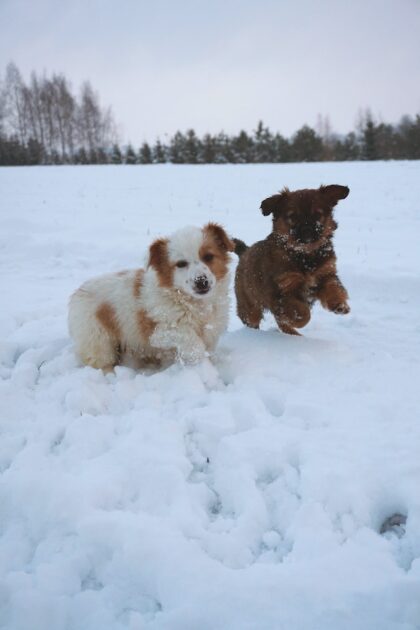 These adorable little paw-some creatures playing in the snow are a sight to behold. Their energy and the backdrop of serene winters make for one of the most calming and relaxing iPhone wallpapers.
23. Vintage Library Room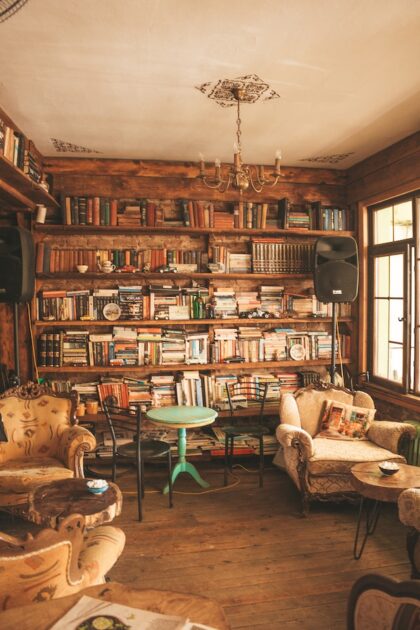 For this one from the list of cool and calming iPhone wallpapers, we would specifically like to talk to book lovers, bookworms, and nerds. Pals, this is what heaven looks like. This dreamy vintage room with comforting couches and shelves filled with books is the perfect retreat for all book lovers. It will surely leave a smile on your face every time you tap on the screen.
24. Vintage Cameras
This rustic and relaxing wallpaper containing old cameras and reels is not just for photography enthusiasts but anyone who wants to add an artistic, vintage, and simplistic touch to their iPhone screens.
25. Journey Into The Woods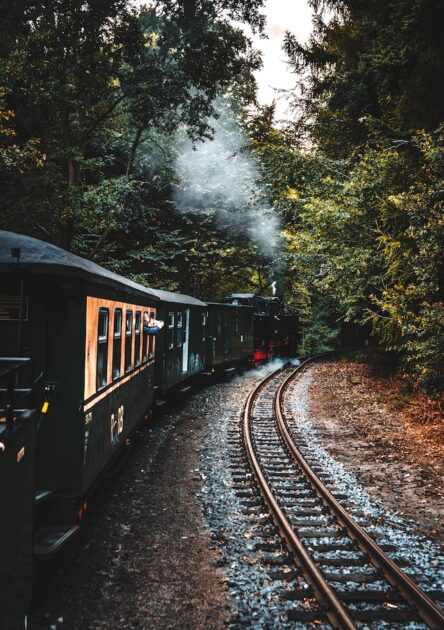 This one from our list of relaxing and calming iPhone wallpapers captures the exact moment when a train moves into thick, dense forests, creating an element of aestheticism and mystery. It's serenity and peaceful atmosphere make for an ideal and calm iPhone wallpaper.
26. Winter's Magic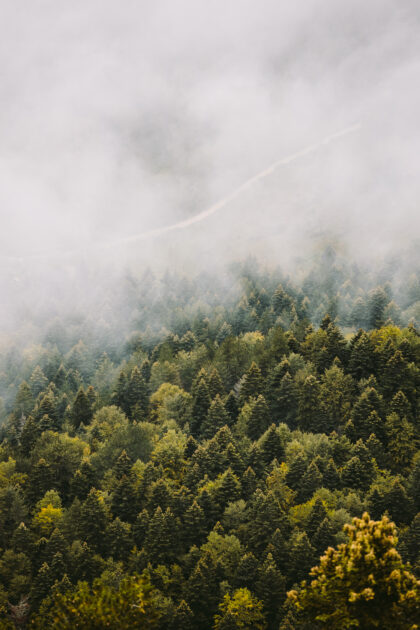 This shot of a thick coat of fog covering a dense forest defines the very beauty of nature around us. The dreamlike scene fills you with a sense of calm and serenity the moment you look at it, thereby making it to our list of cool and calming iPhone wallpapers.
27. Cuddle Buddies
Yes, we have another image of dogs because our hearts clearly cannot have enough of these wonderful creatures. This heartwarming monochrome image of two tired furry friends sleeping together makes for beautiful relaxing wallpaper for your phone screen.
28. Reflective Serenity
This relaxing wallpaper capturing the majestic mountains and beautiful houses, along with their reflections in the lake, is the perfect example of how nature aligns itself in awe-inspiring ways. It is sure to leave you rejuvenated as a calm iPhone wallpaper.
29. Shining Urban Landscape
This breathtaking picture captures the essence of the urban landscape. From the skyscrapers to the traffic and the dockyards is a reminder of the beautiful architectural institutions we have built. If you love glowing skylined and modern city life, this one from our list of cool and calming iPhone wallpapers is tailored for you.
30. Mesmerizing Night Sky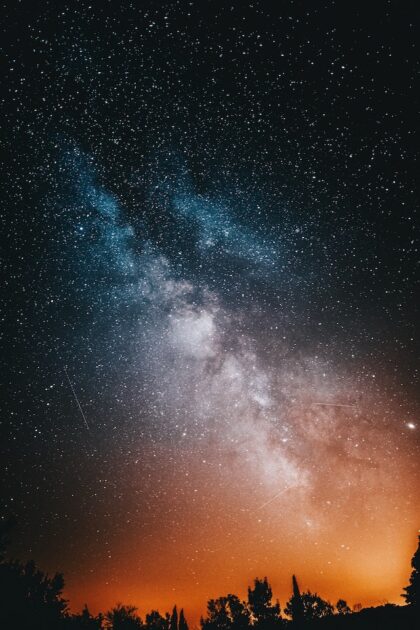 This calm iPhone wallpaper captures the beauty of the night sky painted in hues of orange and illuminated with millions of bright stars. Each time you look at it, it will transport you to a different world beyond the realms and scope of the one we live in. This relaxing wallpaper will be a reminder of how inconsequential we are in the grand scheme of things with respect to the universe. At the same time, it will also help you remember that there are infinite possibilities of hope in the world out there.
31. Blue Fun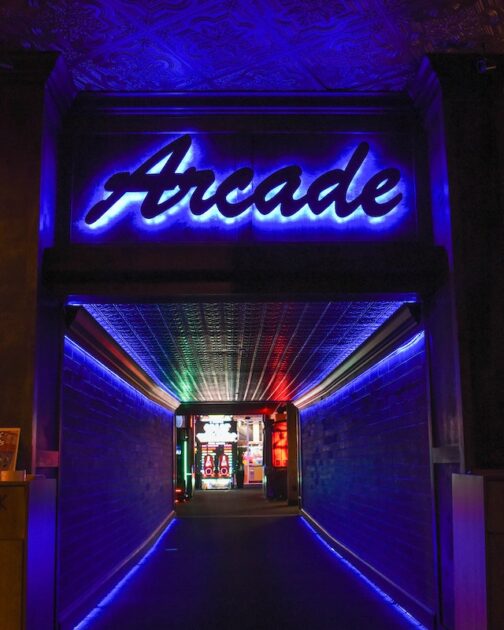 Transform your iPhone screens with this electrifying and exciting wallpaper. This is especially included in our list of cool and calming iPhone wallpapers for retro and OG game lovers. If you are one of those people who enjoyed gaming before it became this whole online thing – this is the perfect wallpaper for you.
32. Sleek And Chick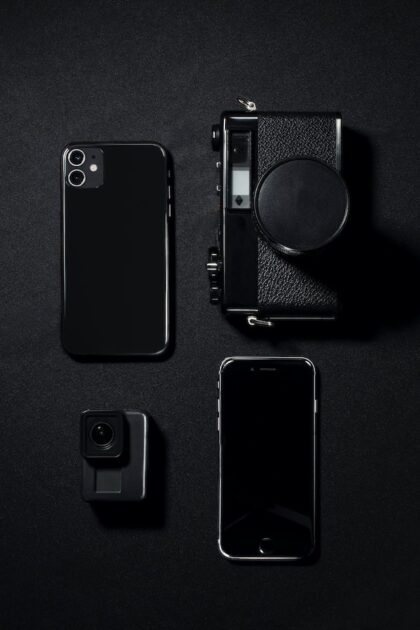 Black lovers reunite. Showcase and channel your love for the colour black and gadgets through this simplistic and uber-cool wallpaper for iPhone.
33. The Sparkling Fountain
Two of the most stunning natural elements – the sun and the fountain – combine to give shape to this beautiful and calming iPhone wallpaper. Make this natural wonder your iPhone background to keep looking at this awe-inspiring shot.
34. Dancing Under The Pink Sky
The last one from our list of cool and calming wallpapers for iPhone is this aesthetic shot of a girl dancing against the backdrop of a vibrant background. Let this remind you to let go of the boundaries and barriers around you and be the person you want to be.
Conclusion:
Changing your iPhone wallpaper can be a seemingly small change, but it can significantly impact your daily life. From calming ocean views to scenic shots, celestial bodies, animals, and much more – our list of cool and calming wallpapers for iPhone has something for all of you.
Apart from your iPhone backgrounds, there are other things that you can add to your phones to help build a peaceful and calming lifestyle. Here are the top mindfulness apps to install to add the art of mindfulness to your daily lives.
To continue learning more about mental health, subscribe to Your Mental Health Pal.